April 13, 2023
Emulators, E3 Bender Style, & CashCom.
Emulators & Mods Under Fire
Easter weekend has been an interesting time for emulator enthusiasts, mod makers and enjoyers alike.
This weekend saw the quiet removal of Universal Windows Platform apps, UAP's, utilised by Xbox Series S|X owners to run emulators for older PlayStation 2 and GameCube titles1. Those users are now facing an error code stating that they are running software that "violate[s] Microsoft Store policy." This continues the crackdown started in mid-2022 after UWP's were removed from the storefront. However, those with developer mode active are still able to run this software, skirting the issue.
In more mod news, YouTuber PointCrow, a Nintendo speed racer and content creator, has released the mod he offered a $10,000 bounty for in late 2021. The mod to make Zelda: Breath of the Wild multiplayer.

While the mod is still available and works through the emulator Cemo, Nintendo has copyright striked every single video where the mod is featured or utilised. So if you and up to 31 friends want to run around Hyrule together, you now can (with limitations).2
Lastly in modding news, are you a Half-Life fan, but can't run a virtual reality headset? Well, now you too can jump into the world of Half-Life Alyx. While the mod has been available for a while, the creators are finally confident enough that you can play the game from start to finish to tag a 1.0 on the release. So, grab your gravity gloves with your mouse and keyboard and get at em!3
E3 is Dead! Long live everybody doing their own thing
So while E3 cited developer disinterest for the gathering, there's been a remarkable turnout of developers running their own shows.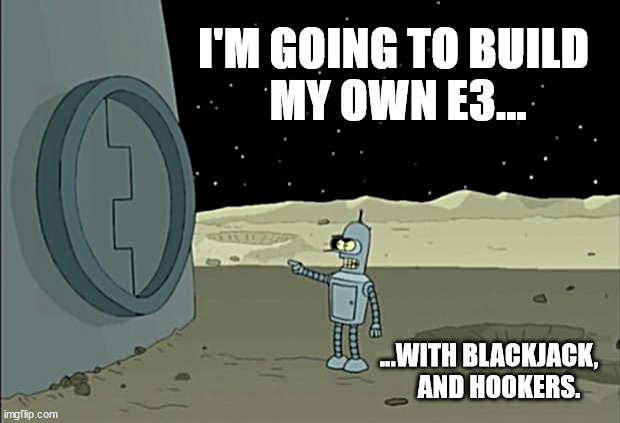 Xbox has announced they will be platforming an Xbox Games Showcase & Starfield Direct on June 11, 10-12 Pacific time. Yep, that's two whole hours of nothing but Xbox games; however, it's rumoured that at least 30 minutes of that could be dedicated to Bethesda's new IP Starfield.4
Nintendo is pulling out all the stops, with the first convention outside of Japan coming to Seattle in September. Nintendo Live 2023 is promising live stage performances, tournaments, photo ops, and "…a new way to experience the games and worlds of Nintendo…". With similar shows in Japan sporting live concerts including holographic performances of Splatoon 2 and KK Slider, this could be one worth keeping an eye on.5
Lastly, QuakeCon 2023 is returning to FPS, and by that I mean first person suitable… as in it's their first in-person even since before … since 2019. This is a fan favourite BYOC event (bring your own computer) with gaming, esports, and meetups. Think huge LAN party and you've got the right idea. Wish I could go.6
Capcom Continues Charging for Nostalgia.
The recently released remake by Capcom of Resident Evil 4, came out of the gate with flying colours with a Metacritic score of 93 and the promise of a free update/DLC in the works. Well, this dropped with The Mercenaries Mode and a sprinkle of microtransactions that Capcom have been seasoning into recent Resident Evil releases. This monetisation of nostalgia fast tracks weapon-exclusive upgrades allowing you to max out weapons faster. While still available in base games, the grind requires you to level all the item's stats as well as in-game currency to purchase the upgrade. Or shell out near 5 bucks for ONE weapon's upgrade.7
And now for the Upcoming Game Releases
Friday April 14th, explore the afterlife in De-Exit, a voxel puzzle, platformer coming to PC, PlayStation, and Xbox. Ultra Pixel Survive, a mobile game trying to take the microtransactions OUT of the pixel adventure genre, coming to Playstation, Xbox, and the Switch. And Mega Man Battle Network Legacy Collection coming to PC, PS4, and the Switch.
Monday April 17, float around in this roguelike twin stick shooter in Beyond the Long Night, or suffer the night in the first-person horror game Suffer the Night. Both coming to PC.
Tuesday April 18, delve into the tactical roguelike Desktop Dungeons: Rewind coming to PC. Put on your boxing gloves and dance shoes to get your beat on in the rhythm-based fighter God of Rock, race with your favourite Disney or Pixar character in Disney Speedstorm, or you could play Minecraft Legends. All coming to PC, PlayStation, Xbox, and the Switch.
Wednesday 19th, Final Fantasy 1-6 Pixel Remasters and its Collection coming to PS4 and the Switch. Horizon Forbidden West: Burning Shores DLC coming to PS5, and become a shipwrecked conquistador in Survival: Fountain of Youth, coming to PC.
And finally on Thursday April 20th, go insane in the Lovecraftian co-op Eresys coming to PC, go kill things with a witty companion in Stray Blade coming to PC and next gen consoles, or get your lemmings… I mean tin soldiers in line in Tin Hearts, coming to Switch.